The graviton is the hypothetical quantum of gravity, an elementary particle that mediates the force of gravitational interaction.
The Graviton training is a 10-session course that deep dives into tools and skills to prevent and manage conflict amongst DAO contributors. If you participate, claiming 6+ POAPs (1 per session), you can become a Graviton, a clear access point for your community to request support in a variety of situations.
This short course aims to engage people around non violent communication, comprehension of conflicts and techniques to manage it internally, individually and collectively.
Tuesdays 2:00 pm EST - 8:00 pm CET
1 session per week
Total time of the training: 10 hours
Individual time of the meetings: 1 hour
Via Zoom - Links will be posted in the TEC discord server
Starting date: 24 of May 2022
Ending date: 26 of July 2022
Capacity: 80 POAPs per session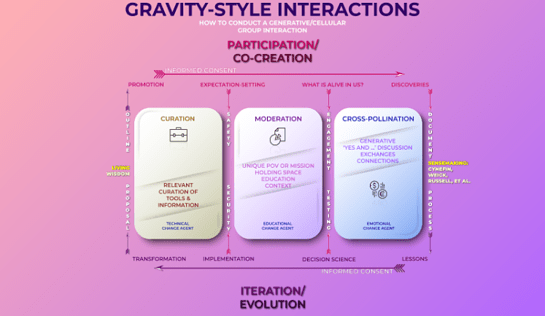 Methodology (Gravity style interactions):
There has been a previous curation of tools and information to prepare the training, this content is being promoted with everyone for informed consent and setting expectations. The moderation of each session is given to a facilitator with an unique point of view, that holds the space for education and contextualization of the scheduled topics, and promote engagement for the cross-pollination phase, where we encourage participants to discuss, exchange expertises and points of view, and participate in meaningful ways, to produce new knowledge and iterate within cycles of living wisdom.
After the training, Gravitons shall be able to:
Make an effort to be present and accessible to their community, bringing high vibes and promoting relationships of trust.
Separate the people from problems. Making parties identify with themselves and the other as equals, rather than centering on their own conflictive thoughts-feelings.
Self-determinate from all parties and recognize key management points by analyzing the information gathered.
Promote empathy between conflicting parties with emotional intelligence. Building proximity from the abstraction of the problem and the humanization of apparent antithesis.
Adapt their mindset for tolerance to conflictive situations, keeping calm and diplomacy to stand as an independent third party.
Propose alternatives to deal with paradoxes while looking for the coexistence and attraction of opposites.
Act according to institutional regulations while implementing actions to frame unwanted behavior within rules and boundaries (Terms & conditions / Codes of conduct / Transformational actions)
Objective: The participants of the training are able to use (in a basic level of competence) the conflict management framework developed by Gravity (the 4Ps). Understanding the different moments and aspects of this transformational process, while having access to multiple tools and approaches to apply, depending on the specifics of a case.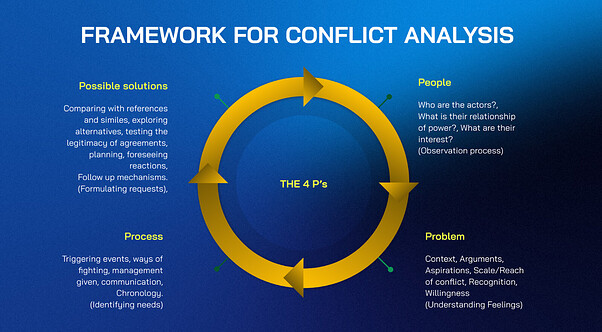 1st
and
2nd
Graviton trainings
slides
(for reference)
…
Third Graviton Training study plan
Module 0: propedeutics
1. 24th of May Introduction and contextualization - Collective facilitation
Inclusive welcome
Breakout / icebreaking
Expectation settings / Methodology
Presentation of the modules of the course
Getting to know the people, identifying teams - study groups.
Group assignment: Apply the proposed framework (4Ps) for the Study of a case. (any case)
Presentations: On the 9th session.
Module 1: people
2. 31st of May Durgadas - Decolonization, Complexity, and unified thinking
3. 7th of June Morgan - Trauma Sensitive & Anti-Oppressive Culture - Accessing our body as a tool for consent and connection
4. 14th June Ddan - NonViolent Communication - (OFNR practice)
Nonviolent communication, a language of life by M. Rosenberg (Audiobook)
Nonviolent communication, a language of life by M. Rosenberg (PDF)
Module 2: Problem
5. 21st June Juank - Gravity deep dive
6. 28th of June Leen - Deep democracy (small practice)
Module 3: process
7. 5th of July Loie - Decentralized Dispute resolution
8. 12nd of July Jeremy - Liberating structures (practice)
Module 4. possible solutions (Group case presentation and role plays)
9. 19th of July Group cases presentation: Using the 4 Ps framework.
In this session, the groups will have 5 to 10 minutes to present the application of the 4 Ps framework to the conflict they have chosen.
10. 26th of July Juan + Jeremy - Role play and wrap up.
In the following weeks, the list of the third cohort of Gravitons will be published with the people who succesfully claimed at least 6+ of the POAPs.
…
If you liked what we are doing, we invite you to continue the graviton path to gain experience with our practice groups and continued education activities. Once you are familiar with our working styles and processes, you can step up and participate in our bounty system, or become an Active Graviton to contribute managing conflictive cases in your, or other communities.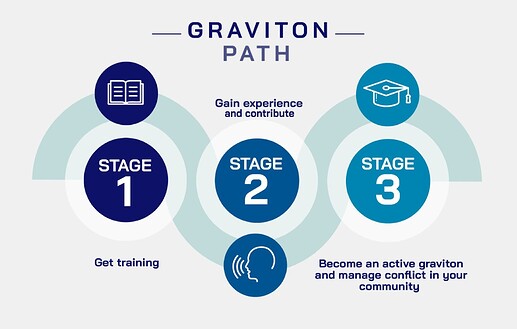 Follow us on twitter and donate to our Gitcoin Grant too!
Thanks to: @BiancaGadelha @Efra @acidlazzer @ZeptimusQ @Ann @liviade @AL0YSI0US @bear100 @innov8tor3 @durgadas @ddan @Leen @MorganicMovement @Jeremy @Loie @Juankbell @gideonro @gene for helping with the design and execution of this course.