Friday, June 18
Hi TEC. We're excited to offer the first weekly update of Working Group highlights! Want to get updates in real time? Please join us for any Working Group call! Check out the calendar.
Comms
NEW! Token Engineering Scouts (Wednesdays 7AM PST/4PM CET): just kicked off to be the liaison between the TEC community and other organizations in the ecosystem.
We're having a guest blog spot by Shermin Voshmgir!
Commons Swarm
Gravity
Ddan hosted a session on NVC (non-violent communication) during last week's Gravity call. Check out the slides!
Durgadas is hosting a decolonization talk next for next Thursday's Gravity call.
Don't be afraid to request support to Gravity for prevention and management of conflicts.
Help us to improve our processes by filling out the Gravity survey!
Forum Highlight: Follow the easy rotation and offboarding step by step if you need to take some time for yourself.
🏄‍♂️ Hatch Outreach
Important! Impact Hours not associated with Trusted Seed membership will be irredeemable from the first day of the Hatch. (Scholarships for membership dues are available.)
Campaign to reach every individual with Impact Hours:

Outreach to every individual with > 4 IH = done!
Of those with >10 IH, 75% have activated their Trusted Seed membership.

There was a kickoff meeting for the Token Engineering Scouts!
Labs
Modelpalooza with Sem: Sem has been modelling conviction voting, continuous issuance models for tokens and buy and sell impacts on a bonding curve, like in the diagram below.


Ecosystem Value Flows and TEC Lab crossover episodes: the TEC Labs will offer a space for ecosystem value flows alumni to present their projects to mathematicians and systems modelers to form groups for future collaboration.
Praise analysis: the Praise analysis continues. Mohammad has produced an incredible interactive dashboard to explore the praise data.
Legal
Added final params to all legal docs.
Started working in the covenant.
Looking into documentation for SourceCred and Celeste implementations.
0mega
Our two current initiatives:
Params
Soft Gov
Stewards
Countdown to hatch! As we near the Hatch, our Stewards are tracking each Working Group's readiness. Once all Working Groups give the green light, we hatch!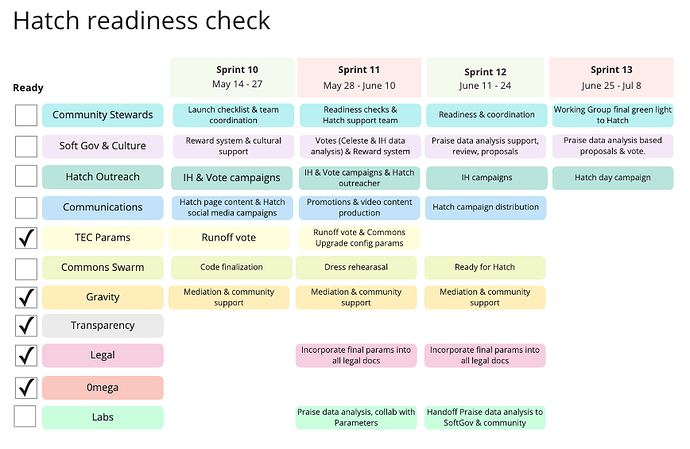 Some numbers on the TEC to date:

15 Stewards
11 Working Groups
400+ contributors

Forum highlight: TEC Visual explainers – check them out in our last blog post!
Transparency
Thanks for reading!

Hope to see you on a call soon.