Hello everybody,
I am Mert. I have been contributing to TEC and am part of the Inverter Network team which some TEC core members are also part of it. While developing Inverter (previously Proposal Inverter), I have come to the realization that TEC as a commons funding entity would immensely benefit from the functionalities that Inverter brings. I have come to this conclusion not only from a theoretical set of ideas but mostly from case studies that I will sketch below.
Inverter's Features that can help TEC;
Milestones
Accountability in the funding process is a huge issue in both traditional grant and funding schemes and in the web3 space.
To benefit funders and project owners, Inverter creates accountability to funders using a system of these defined milestones, which allows funding to unlock progressively with the successful completion of each milestone. For the completion of the milestones, Inverter adopts an optimistic approval process where work is considered satisfactory until a funder objects and decides to withdraw the funds. After the first milestone funding, which acts as guaranteed funding, if an invProposal isn't capable of producing subsequent satisfactory Proof of Deliverable Completion reports (a report that shows that you successfully completed the proposed deliverable in the creation of proposal), funders can at any moment withdraw their funds. That way, funders are guaranteed to have their resources spent only if they are satisfied with the progress of the project's ongoing work based on their committed deliverables and budget planning. Also, funders can provide feedback on Proof of Deliverable Completion to
invProposal Owner triggers the stream of a new milestone after completing the previous one by uploading a Proof of Deliverable Completion documents for every committed deliverable of a milestone.
Here's an example of the milestone and deliverable process:
Imagine your proposal has a second milestone titled "Finishing up high fidelity UX mockups" with two deliverables, two months duration, and a 10,000 USDC budget.
Over 2 months, 10,000 USDC will be streamed to the project's treasury address.
After finishing Milestone 2, as a Proposal Owner, you upload a Proof of Deliverable Completion document for all the deliverables under the milestone and trigger the transaction.
When you have uploaded all Proof of Deliverable Completion documents and the 2-month duration for Milestone 2 has passed, then Milestone 3 will be available to initiate.
You make a transaction to initiate funding for Milestone 3.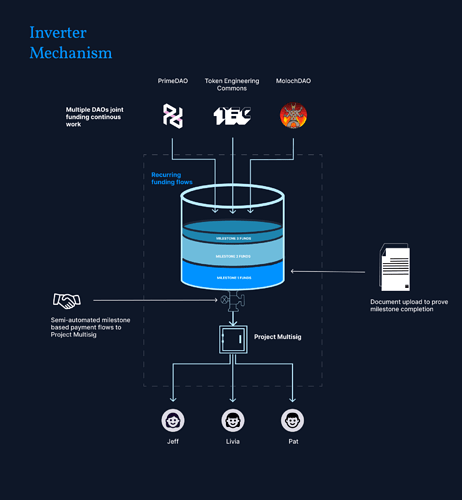 The clear advantage of this optimistic approval approach to milestone reporting is that contributors working on exploratory or open-ended projects do not need to repeat bureaucratic proposal and transaction approval processes for different organizations while still held accountable as funders can withdraw their funds in case of dissatisfaction with progress being made.
I believe TEC would benefit from that accountability mechanism as one can see from those examples;
Comms Budget Problem
According to recent Pol that soft gov initiated there was discomfort about the Comms working group. This led to the discussion, "Should Comms return their funds to the common pool?"
Some quotes from Stewards agenda:
Comms return funds to common pool and reevaluate what we need from Comms. That might look like Twitter for external reach and newsletter. Note, feel this way about more than just Comms. Have not set boundaries around appropriation of common pool. Would like to see set boundaries around the use of the common pool.
Returning funds to commons-pool would be very slow. Make sure people's work done get paid.*
Token holders didn't vote on strategy. Voted on the category of Comms. Important now is that we restore confidence in token holders. De-personalize away from people. Say what comms needs, what we will do, how much it will cost. Strong advocate for returning funds.
Seems dangerous to cut tweets, for example. That's our lifeline. Impress what's at stake: missing to be schelling point of TE. We are not that now. Really need a good strategy, integrated with a mission. TEC Community Stewards Weekly Agenda - Google Docs
If TEC were using an Inverter that boundaries around the use of the common pool would have been set from day one. The boundary is tied to community dissatisfaction. Thanks to Inverter's mechanism that allows funders to withdraw funds in case of dissatisfaction with proof of deliverable completion documents, the community would be able to withdraw the provided funding by voting with valid arguments. That way, TEC would have a clear set of rules for measuring community opinion continuously and impose accountibility in a clear manner.
Also, culturally, Inverter's standardized milestone-based funding approach would force Comms to upload Proof of Deliverable completion documents. And if the community was not satisfied with the reports, they may provide feedback and request improvement in certain areas. I believe if there were a medium to clearly have feedback loops on milestone completion, the dissatisfaction around Comms would never come to that stage.
Lack of communication with the community after Proposals
I observe that in TEC, there is a lack of communication with community members after a proposal has received their funding. Many proposals have not updated what has been achieved during that period. Even though some proposals posted amazing updates, such TE Academy. It tends to disappear due to a lack of clear reference points for progress updates. Using Inverter would provide our community with a clear reference point to track progress.
Using Inverter with Gardens
While you are reading, I am sure that some of the friends think that "but we don't want to move to other funding platforms. We want to use conviction voting. We designed params for months." One novel solution that Inverter brought is that in Inverter, each published proposal (invProposal) produces a smart contract address that can be used to interact with other funding mediums. That way, funders can have benefits from the Inverter without changing their preferred way of decision-making in funding proposals.
To access Inverter benefits such as milestone-based funding etc., all you need to do is input the Inverter smart contract address while creating your proposal in Gardens.
Lastly, even though Inverter has not been live yet and will be live on ETH Mainnet initially. We are planning to go multichain. I wanted to create this post to have community feedback, and in close future, maybe we can start using Inverter as a complementary tool for our commons technologic stack. Looking forward to hearing comments!