Proposal title
Gravity DAO second funding proposal from the TEC
TL;DR
Our goal is for Gravity to be a self-sustainable organization in the mid term, and with this proposal, we want to continue our DAOification process, through requesting TECs common pool funds.
We have identified the need for conflict management and trust creation in the wider web3 space, and see this as an opportunity to steward our working group into a commons, learning and iterating from the TECs frameworks.
Proposal description
Our goal is the creation of our own ethical, safe and resilient economic system around conflict management as a commons. To do that, we need two things.
Continue DAO community development and provision of services (this is intended to be funded through the TECs common pool)

Design and launch our economy (We intend to fund this through external funding mechanisms)
Additional information to add
https://twitter.com/GravityDAO
How does this proposal benefit the community and/or the field of Token Engineering?
Gravity becoming a self-sustainable service DAO, benefits the TE community by supporting coordination within the social layer of tokenized projects. Giving them access to tools we create, information coming from research activities, free conflict management courses, and other types of education and support for individual and collective wellbeing.
As Gravity is a product of TEC, we will provide conflict management services without further cost to this community until March/2023, and in the future TEC can get Gravity's services at a premium fee.
Gravity can also be shown as a product of the TEC in the way that we are supporting its mission and vision by creating standards for tokenized projects and enabling the creation of ethical, safe and resilient economic systems. Starting from a working group that found a need in the space and now is trying to provide value by tackling that need in a wider range.
Gravity is supporting the TE field contributing with knowledge in conflict management, Psychology and Decision Science field.
Where we come from:
Starting proposal: posted on jan 12 - 2022 on the TEC forum
Gravity 6 month funding from the TEC
When our starting proposal was approved in the TEC gardens we received 51k WXDAI that have been planned to last until November 2022.
Here we present some of the achievements made by GravityDAO thanks to this initial proposal:
Active case mediation (TEC + other communities): So far Gravity has mediated 28 cases in conflict management amongst multiple communities

Psychology research: Bianca and Annanna have been working around the idea of the implementation of psychology in web3, seeing a space and a need for mental health care in the DAOspace. We got a collaboration with Universidade de Brasília- Brazil to develop a survey and publish the research also in an academic way.

Graviton training: we had 3 cohorts of The Graviton training that is a 10-session course that deep dives into tools and skills to prevent and manage conflict amongst DAO contributors. This course aims to engage people around non violent communication, comprehension of conflicts and techniques to manage it internally, individually and collectively.

Active Gravitons (AnnAnna, Bends, and Aloysious) Are points of contact for reporting issues in the TEC and related communities and mediate conflicts in those spaces.

Website (Work in progress):
We've created and bought a domain and installed some of the plugins on the Tech Choices tab of the spreadsheet, and continue to evaluate Web3 tech and plugins.

We created a Focus Matrix to organize and get a clear idea on what we need and want from our webpage and our narrative.

Working with 40 Acres DAO to gather back end development talent to help push some of the ambitious aspects of this forward.

Got our hosting for communication strategies.
Community building: Onboarding new members and helping them to fit their skills to help the project to grow. During this last proposal we created Gravity's own email, twitter and calendar which slowly starts to make it more independent from TEC.

Participation in the commons prize: Gravity participated in the commons prize from Commons Stack. Even though we didn't get the prize, it was great to see how many people believed in a conflict management as a public good.

Outreach service: We are actively looking at multiple funding streams. We have our Gitcoin and Giveth pages active, we have gained experience on working with Aragon and other communities. We have also participated in grants, looking for opportunities in the space (like CLR. funds grant at devcon, in Arbitrum)

2 Book clubs: Nonviolent communication by M. Rosenberg, and Who do we choose to be by M. Wheatley. Suggested by Durgadas and Leen.

1 Practice group: Led by Jeremy and Leen, about Deep Democracy and Liberating Structures.

Various presentations of Gravity in conferences and in online community events: Gravity is starting to be noticed like an independent DAO

Twitter spaces: We promoted and participated in several twitter spaces, about welfare at work, Suicide Prevention Awareness, conflict management, and mental health as a public good.

Total of 21 different contributors being rewarded in Dework:
Amount requested (Only for Conviction Voting)
How much in wxDAI are you requesting?
25,800.00 WXDAI
How will these funds be used? (Only for conviction voting)
Planned execution of the budget
These funds are going to be used for the continued development of GravityDAO. In the best case scenario, this would be our last proposal to the TEC.
The budget breakdown
| Service | Role | Budget | Rationale | Monthly | 3-Mo |
| --- | --- | --- | --- | --- | --- |
| Gravity case management | N/A | monthly rate | 2 cases per month (500 DAI per case) (300 DAI for principal graviton & 200 for SME) | 1000 | 3000 |
| Graviton training | Instructors | 10-sessions | 2000 DAI for facilitators & 1000 for coordination team | | 3000 |
| WG | Outreach manager | monthly rate | 2 hours a day, (mon-fri) (20 DAI per hour) | 800 | 2400 |
| WG | Coordination manager | monthly rate | 2 hours a day, (mon-fri) (20 DAI per hour) | 800 | 2400 |
| WG | Operations manager | monthly rate | 2 hours a day, (mon-fri) (20 DAI per hour) | 800 | 2400 |
| WG | Treasury manager | monthly rate | 2 hours a day, (mon-fri) (20 DAI per hour) | 800 | 2400 |
| WG | Case manager | monthly rate | 2 hours a day, (mon-fri) (20 DAI per hour) | 800 | 2400 |
| Active Graviton | Ambassadors in other communities | Monthly rate | 1 hour a day, (mon-fri) (20 DAI per hour) 200 DAI per person | 600 | 1800 |
| Bounties | N/A | Pool | Bounties distributed according to contributions | 3000 | 9000 |
| | | | Totals: | 8600 | 25800 |
| *All leftover or additional funding will go to the bounties pool | | | | | |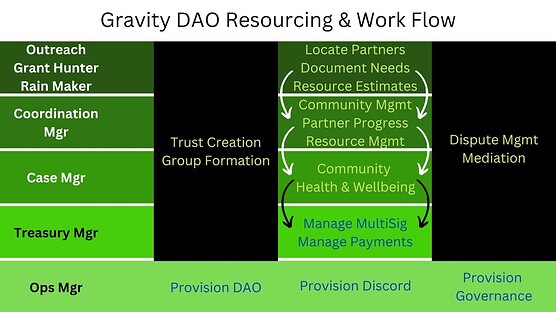 Milestones:
4th Graviton Training

Analysis of the Gravity Mental Health Survey

Analysis of Conflict Resolution Survey

Content creation and research

Trust creation and educational activities

Creation of multiple funding streams to feed our economy

Outreach to multiple DAOs to acquire our services

Presence in different online and in person events

Continue providing conflict management services

Continued participation and engagement for Gravitons (get togethers & Subject matter content)

Launching our website.
What does success look like?
Gravity success looks like when all the activities planned get executed and we can keep the community involved in them.
With this funds we want to get recognition in the web3 space, finish the webpage infrastructure and make the analysis of surveys.
This goes together with expanding our resources around web3 so more people know about our offerings.
We aim to spread the knowledge of conflict management and well-being within DAOs. By doing this, more communities will have access to our work and be impacted by our growth.
How will you share progress?
Progress will be shared on this forum thread and communicated with the audience in the TEC community calls.

Through the TEC forum, we will make updates of the execution of the budget.

Through our Zenhub board we will keep track of the cases managed.

Through the Dework space and execution of bounty payments.

Through our Gravity Calendar and the execution of the planned activities.

Through new generations of Gravitons.

Feedback loops between contributors (to be assigned a monthly call, a form or a chat for this matter)
Team Information
All Gravitons from first, second and third generations can claim bounties.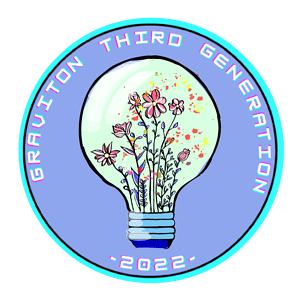 We will be working with roles and a pool of bounties:
**Roles:
**Bounties:
Leading book clubs (50 DAI per session) - 1 per week Approx 200 per month
Creating Safe spaces (100 DAI per session) - 1 per week Approx 400 per month
Content creation (blogs, guides, designs, transcripts In coordination with TEAMs) - Approx 800 per month
Practice groups (100 DAI per session) - Approx 400 per month
Role plays (200 DAI per session) - once a month, Approx 200 per month
Continued education activities (100 DAI per session) - 1 per week approx 400 per month
Active Gravitons 200 DAI for being an ambassador in other communities
Complexity bonus: 100 DAI per case if Gravitons request it.
Platform maintenance costs: Approx 100 month
Graviton to graviton support: (100 per session) 1 per week approx 400 per month
Research initiatives & proposal iteration (400 xDAI per month)
Business development bounties (400 xDAI per month)
Integration/bot development/ support ops (400 xDAI per month)
Platform management 20 DAI/H
*New bounties can be created based on identified necessities
Makers of this proposal:
Juank + Bianca + Zeptimus + Durgadas