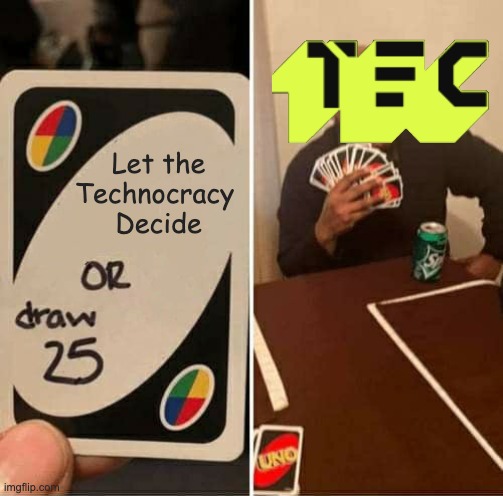 Historically, economic design has always been done with a top down approach, where the system is set by a core group of "central planners" and imposed on the masses.
Cryptocurrencies have made several steps to improve this approach, creating "opt-in" DAOs/economic systems, but still to this day, every DAO/economy that I have ever encountered has had a core team that designed and launched the economy, picking all the parameters.
The TEC is taking it a step further.
Your Economy, Your Choice
We intend to be the first economy that has ever had its economic design done by the community that hopes to use it! A bottom up economic design process.
The Evolution Starts NOW!
We already chose the MVV in a decentralized way, now it's time to decide how the Hatch is configured. The Hatch will determine the initial token distribution for the TEC and the acceptance criteria for proposals to the Hatch DAO.
If you are ready to engineer the TEC's economic initialization, check out the video embedded on the dashboard! The first 15 minutes is more than enough to give you a basic understanding, the rest is bonus.
Iteration Is The Way
Go to our Tokenlog page to see the top Hatch Configs then click the link to autofill the dashboard with those parameters and improve it!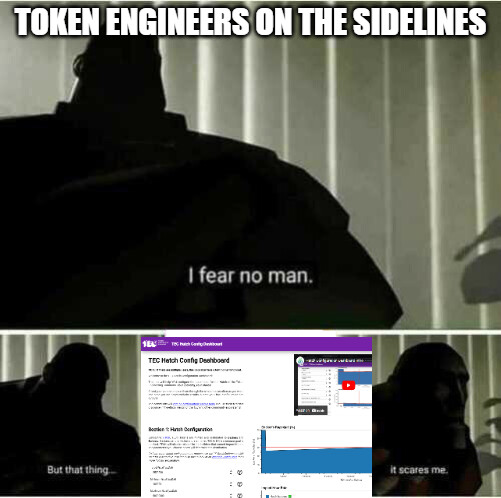 This is the first attempt to do anything like this, and we have many ideas on how we can improve the TEC Hatch Config Dashboard. Right now it can be a little intimidating to play with on your own… So don't!
DESIGNING ECONOMIES MAKES FOR A GREAT PARTY!
Join one or many of our Hatch Param Parties and bring your friends! We will play some music and answer questions about how all the params interact with each other.
My good friend Gary Lachance always says: If it's not fun, it's not sustainable so…
IT'S PARTY TIME!
Click the link to add it to your google calendar.
There may be more parties on the calendar and on the blog post The Token Engineering Commons Hatch: Your Economy, Your Choice | by Suga | Token Engineering Commons | May, 2021 | Medium
Monday, May 10th
2am LA, 5am NYC, 11am Berlin, 5pm Manilla Hosted by Nuggan
1pm LA, 4pm NYC, 10pm Berlin, 4am (Tues) Manilla Hosted by Griff
6pm LA, 9pm NYC, 3am(Tues) Berlin, 9am(Tues) Manila Hosted by Griff
Tuesday, May 11th
3am LA, 6am NYC, Noon Berlin, 6pm Manilla Hosted by Sem
11am LA, 2pm NYC, 8pm Berlin, 2am(Wed) Manilla Hosted by Vitor
12pm LA, 3pm NYC, 9pm Berlin, 3am (Wed) Manilla Hosted by Griff in the DAOHaus Discord - https://discord.gg/Wmdju9BUSu
3pm LA, 6pm NYC, Midnight Berlin, 6am(Wed) Manilla Hosted by Griff
LET THE DEBATES BEGIN!
On Wednesday and Thursday, we will have Parameter debates. Bring your favorite Hatch Config and present it to the Community!
Wednesday, May 12th
11am LA, 2pm NYC, 8pm Berlin, 2am(Thurs) Manilla Hosted by Vitor
12pm LA, 3pm NYC, 9pm Berlin, 3am (Thurs) Manilla Hosted by Griff
1pm LA, 4pm NYC, 10pm, 4am (Thurs) Manilla Hosted by Griff
Thursday, May 13th
8am LA, 11am NYC, 5pm Berlin, 11pm Manilla Hosted by Griff
10am LA, 1pm NYC, 7pm Berlin, 1am (Fri) Manila Hosted by Vitor
This first round of voting will be counted during the Community Call at ~11:30am LA time on Thursday. Because of the potential for vote splitting due to forking, the results will be analyzed for a day by the Community Stewards and then the top 3-5 Configs will have a run off vote starting Friday
Edited so many times… I'm too excited about this… but now i'm only keeping The Token Engineering Commons Hatch: Your Economy, Your Choice | by Suga | Token Engineering Commons | May, 2021 | Medium up to date