Monday, June 28
Hi TEC! We're back again with another round of Working Group updates for last week. You're always welcome to get updates in real time by joining us for any Working Group call! Check out the calendar.
Comms
TE Scouts Hack Sesh: Wednesdays 7AM PST/4PM CET
Commons Swarm
Refined models for (WIP):

Conviction Voting
Bonding Curves

EVMScripter library
Frontend improvements in convert.tecommons.org
Gravity
Durgadas presented the group with his talk about decolonization in the last weekly.
🏄‍♂️ Hatch Outreach
Reminder! Impact Hours not associated with Trusted Seed membership will be irredeemable as of the first day of the Hatch.
Labs
TE Services kick-off!
Praise analysis dashboard (also shared in SoftGov)
Praise clustering dashboard (also shared in SoftGov)
In this video, Octopus applies three coefficients as examples for measuring IH distribution. He explains: "These are calculations requested by the community. None of the terms have any value judgment. For example, it is not necessarily the case that a more decentralized distribution is better or fairer. These interpretations do not necessarily reflect the work that was done by people, and due to the fact that there are multiple competing measures/issues (including compensation rates, tasks that varied in assessed Praise value from week to week), the data is intrinsically complicated, and no one number or measurement can capture the aspects of it." He also clarified the technical definition of "decentralization" as being when a collective body has "a large number of points of failure".
Legal
Working on the Covenant
Considering third party services posting terms
Reviewing all legal docs to have all info ready for Hatch
0mega
Manifesto started serendipitously
Initiative "TE Consilience" project
Initiative "Ethos of Token Engineering"
Goal: Turn WG meetings into focus group / participatory research on TE ethics
Params
Commons Configuration Dashboard
Soft Gov
The Soft Gov WG weekly call on June 22 was organized as a presentation of the Praise analysis by Ygg, Octopus and Maghaali. They provided and explained the Praise Analysis Dashboard.
They also created a Praise Clustering Dashboard.
In the Community Call on June 24, dates were identified for the Praise analysis process:
July 1: Proposal submissions and voting close
July 2: Run-off proposals begin
July 2-6: Run-off submissions and voting
Following week: Begin Hatch
Forum Highlight: On-going discussion of Praise analysis
Stewards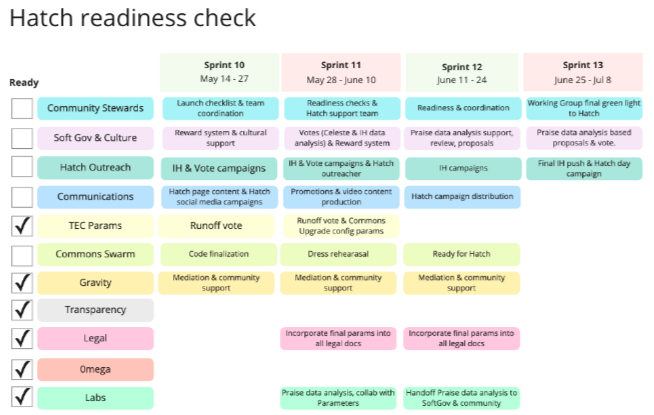 Transparency
Thanks for reading!

See you soon!