!
TEC Lab!
Proposal Information
Description:
Ever wonder what's a buidler, and why they need hardhats

? Ever try explaining what the acronym 'cadCAD' stands for to your family and friends around turkey dinner? Ever ask yourself, "Hey, am I recognizing the unfolding of a revolution in human connectivity and governance mechanisms that are manifesting higher dimensional value creation opportunities across the internet and in local communities, while I am just sitting here on twitter hoping that there will be even more flashswap exploit memes in 2021 than 2020?"

? Do you want to step off the metaversal sidelines and begin to live a life of web3 crypto governance design; staking your identity in the commons by presenting your mathematical gifts to earn influence in cyber-physical economies? If you answered 'YES!' to any of the above questions, then you may just have a calling to become a practicing token engineer! And this proposal provides a path to mastery with the Token Engineering Commons Lab

!
In the learning of any discipline, it is essential to supplement theoretical knowledge with practice of the tools and methods of the field. Token Engineering is no different. Various resources have emerged for study of token engineering theory such as the Designing Ecosystem Value Flows course, the decentrally-sourced Hitch Hikers Guide to Token Engineering, the various TEC study groups, or the cadCAD.education course.
TEC Lab is a space for all happy participants of the Token Engineering Commons or Token Engineering Community to come join other community members in learning, utilizing, (and showing off


), the latest and greatest token engineering tools, workflows, and methodologies, that are popping up around web3, and the crypto-economic metaverse. By sharing our knowledge and techniques, we can advance the value acceleration of the Token Engineering Commons.
Details:
The lab is an initiative that was started by YGG in order to provide a collaborative learning space for members of TEC to learn and share workflows with other TEC members, while collaboratively building out real-world TEC solutions, tools, contributions, educational content, ect. The TEC Lab is very meta because it is a space in the TEC where we use TEC tools to make TE contributions to TEC tech such as TECH and CSTK. We collaboratively use TEC tech to teach, learn, and test TECH tech. For the TEC by the TEC (definitely not a technocracy).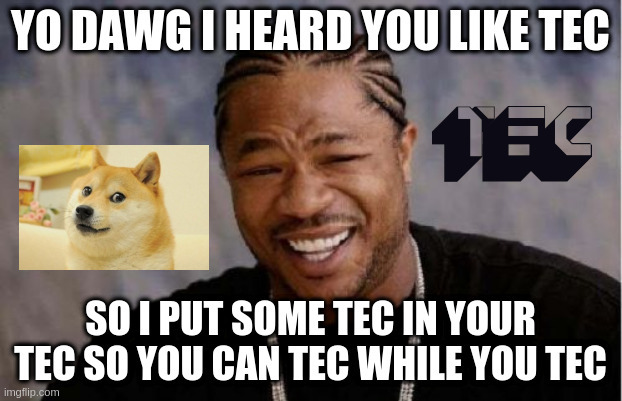 The idea is to make the TEC Lab acessible, yet engaging for all token engineers across all skill and experience levels. Content will range greatly from tutorial series, to collaborative hackathons, to TECH development, to special guest demos and lectures, to YGG rambling on about linux and command line interfaces (I didn't say every lab will be thrilling). All TEC hatchers and community members have unique skills and knowledge that could benefit the community, and thus there shouldn't ever be a shortage of insightful teachers, and topics to cover such as demoing all the participatory mechanisms of the TEC Hatch (think voting and making proposals).
The TEC Lab was launched in alpha phase on December 4th 2020 with a wizbang two-part series on getting up to speed with setting up token engineering environments using git, python, and jupyter. This environment setup is a foundational first step for anyone entering the field. Those of us with a background in computer science or software development will likely find these first steps very straightforward, but, being mindful of the interdisciplinary nature of token engineering, we find that many initiates get snagged and frustrated at these early steps. In this case, the TEC lab was used as a space to make sure that all participants where able to achieve a certain threshold of milestones like running python on their local system, running an interactive jupyter notebook, and using git to synchronize efforts with team mates.
In TEC labs 3 and 4, a different approach was taken in which YGG 'drives', under direction of experienced hatchers in order to initializing the workflow environment for modelling and visualizing the parameters for the upcoming test TEC Hatch (TECH) parameters. This format will be continued for the first several labs of the new year as the test TECH approaches. The result of this series will be a collection of notebooks that display different TECH environments and scenarios based on the parameters chosen in the models. This will give hatchers a chance to see the impact of various parameters and even vote on which outcome they deem acceptible, and thus the parameters that they would like to see move forward for the hatch.
The root of the organization for the labs can be found here:
Expected duration or delivery date (if applicable):
4-6 Months of Labs in 2021. (16-24 Labs), with the possibility of renewal.
How does this help Token Engineers and benefit the Token Engineering community?
By participating together in this collaborative discovery of efficient, practical, and safe practices of token engineering, we get to influence the emerging standard tools and workflows of the token engineering commons. This is a great opportunity as well as a lot of responsibility. I think it is important that we carefully apply the TEC cultural practices to this endeavour. Labs serve a dual purpose, in addition to being educational, they are productive blocks in which real-world token engineering problems will be faced and solved by the community. A data archive in the form of notion pages, data sheets, github repos, and video recordings will serve future generations of token engineers to learn and build upon. The structure of the labs will evolve over time, increasing their relevance to the needs of the token engineering commons.
To be continued…
Checkpointing this proposal as I am quite tired for the evening and want to make sure that it saves. I will continue to supply information on the team, funding, and how funds will be used soon. The budget that I have in mind is 15,000DAI-30,000DAI total, going primarily towards hosts, organizers, teaching assistants, and creative minds behind the lab. I'm really looking forward to forum discussions on this topic as I see the interactions of dynamic personalities being able to push the lab towards potentials that no one person can imagine.