THE QUANTIFIER ROLE
The purpose of this role is to perform regular manual quantifications of anonymized praise data generated by the community, following the process implemented by the Reward WG outlined below.
Anyone with the quantifier role will be placed in a pool. For each quant, an appropriate number of quantifiers (proportionate to the amount of praise to be quantified) will be chosen randomly.
To be assigned the quantifier role, participants should attend a mandatory onboarding meeting that will be hosted bi-weekly at launch, progressing to monthly as the Quantifier Pool stabilizes. In the near future, there will also be a video explaining the entire process in detail. Along with the training processes and documents, there will be a #Quantifier-Support channel where team members can help quantifiers with questions or support related inquiries that arise.
RESPONSIBILITIES
A Quantifier's responsibilities include:
Read and understand the Rules of Praise and Quantification post
Quantify all of the praise that's been assigned to them for the Quantification Period (Quant)
Identify and mark duplicate Praise in the Reward System Dashboard
Identify and mark invalid Praise in the Reward System Dashboard
Attend the final quant review call
QUANTIFICATION PERIODS
Quantification Periods are divided into bi-weekly sections, meaning Quantifiers will be quantifying two weeks worth of praise. Quantifiers will have 5 days to complete praise quantification async, complete the final quant review and submit the final quant to the Reward Board . Generally it should follow a typical Monday-Friday work week.
Friday - Wednesday (5 days): Quantification opens, Quantifiers complete their assigned praise
Thursday (1 day): Final Quant review call is held. Final review is completed and submitted to the Reward Board by the end of day.
Friday (1 day): Reward Board Approves/Reject Quant - Distribution happens
** In case it's rejected we will follow up on Monday to resolve the rejected distribution which will take the form of a scheduled sync call with Reward Board and Quantifiers to resolve issues and submit a new distribution proposal.
HOW TO QUANTIFY
Log into Reward System Dashboard with your Web3 Wallet (we recommend MetaMask)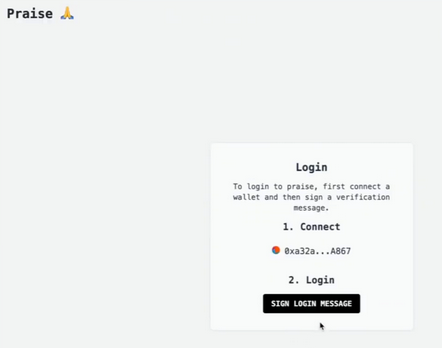 Navigate to the active quantification period you've been drafted for
Go through the list of praise you've been assigned, it has been separated into sub sections for each praise receiver.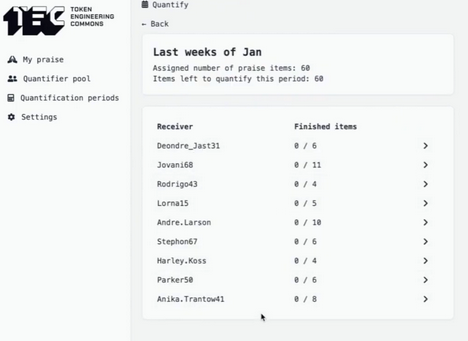 Quantify using the sliding fibonacci sequence scale, this will give "weight" to the praise you're quantifying, increasing its value within the reward system.
PRO TIP: If you're a bit lost in some of the terminology or curious for more context about an instance of praise, trying searching for some keywords on the forum. The TEC Handbook is also a fantastic place to acquire more general info on the TEC.
Mark duplicate praise, this is any kind of contribution that gets praised more than once.
*A Note on duplicate praise values
There is a small percent based modifier for duplicate praise. When you mark a praise as duplicate the duplicate praise gets a percentage of the value of the original praise. The value of this praise is rounded down to the nearest whole number.
The duplicate praise modifier is set to .1 (10%)
Praise 1 is given a value of 13
Praise 2 is marked as duplicate of Praise 1 and now has a value of 1(rounded down from 1.3)
---
Mark as invalid praise objective contributions in general that should be captured by SourceCred and any kind of praise that goes against the code of conduct, for more information read Rules of Praise and Quantification.
Finish all your assigned praise in a timely manner so we can respect our timeline outlined in this onboarding guide. This is important to ensure we distribute $TEC rewards punctually to our contributors. If you're curious to learn more about the TEC Reward System check out Outlining the Rewards System Process… V2! Forum thread.
---
Duplicate, Dismiss or Quantify?
We can expect that Sourecred will capture objective actions on Github and the Forum so general praise for interacting with the forum can be safely dismissed. i.e

However, praise for the content or contribution within those said specified actions should be quantified!
Here's a good breakdown on some guidelines for when to mark a duplicate and when to dismiss (thanks @mettodo) :
same praise giver, same praise verbatim and the same week = dismiss
same praise giver, same/similar praise verbatim and different weeks = quantify
different praise giver, same contribution praised and the same week = duplicate
different praise giver, same contribution praised and different week = quantify
Meeting Attendance?
A meeting attendance bot is in the works (as of writing, 03-28-2021). Unfortunately we won't be able to retroactively track past meeting attendance so general praise for showing up to meeting should be quantified. If it's just a generic "thanks for being at the meeting" we should give a lower score since, without context of how/if they contributed to a meeting's value this seems like a low-effort gesture.
i.e

vs.
Where can I get more info if I don't understand a praise?
Often you might come across an instance of praise and there are some nuanced terms or references you don't quite understand. Here's three ways to get the info you need to get the job done.
The Forum - Yeah this forum is bursting at the seams with info! If you get stuck during quantification go ahead and use the search feature in the top-right and try some keywords to find the context you seek.


The TEC Handbook - Many longtime contributors of the TEC have put an enormous amount of work into creating this awesome handbook full of information about the TEC and Token Engineering. Use the search feature or dive right into the glossary to aid you in your quantification journey.

Ask the Praise Giver - The most direct way to get more context would be to ask the person directly via discord. Since we've turned off pesudonyms for praise givers you should be able to see who dished each instance of praise . Don't be shy to reach out and ask any clarifying questions you may have if none of the above options yield any useful results!
Praise @ms-4235 and @divine_comedian for working together on this post.