Hey


I'm a die hard "token engineer" , I care deeply for TE Commons and especially the TE Community since its very beginning, yet I did not buy into $TEC because I disagreed with a fundamental assumption; and was foreign to TEC (Commonsstack's) fundamental mindset.
The differences in mindset from where I originally came from (automate all the things) and Commonsstack which is both about automation (ABC+CV) as well as soft governance (praise and party - educational mostly) helped me to grow personally and as a "token engineer". Hence even more now, I believe, as is currently, TEC focuses too much on running the TEC (which was needed in the beginning to build it from the ground up) and not sufficiently on nurturing Token Engineering Commons - the public good, which is not only what is represented by ABC+CV and its operations.
I served as a Steward in TEC#0mega, because that is a space that intrinsically motivated and rewarded me as a token engineer: exchanges on figuring out the transdisciplinary art of token engineering, TE Ethics and Ethos. That open and safe space for exchange provides potential for practitioners to learn to live what we value: The intangible public good of TE "Ethical Design for Token Ecosystems". However, it is near impossible for practicing token engineers to make time to serve for the common - and the common pool cannot possibly measure up to market rates for TEs. So intrinsic motivation, "scratching a TE itch", is the only economically viable incentive we can provide for TEs.
To live what we value fully "Sustainable and Ethical Design for Token Ecosystems" we also need
Token Engineering Resources for practitioners
Learning Resources (and practice spaces) for learners and practitioners
and people who build these resources. This is where most OG TEs are active, practitioners start their own DAOs and services etc. Which is not only not for profit. So for them part of the motivation is to get support in disseminating these resources. By the way this is where TEC WGs have done a much better job than most TEs if left to their own (engineering) devices! This is an area where I see how some TEC WGs can nurture TE Commons and Community directly through their working on TEC. This is an aspect this can be improved through WG Comms, WG Sampo etc. by collaborating more directly with more of the Builders. If a proposal is CV'ed (and staked on), we should also disseminate the word - that's a positive sum game.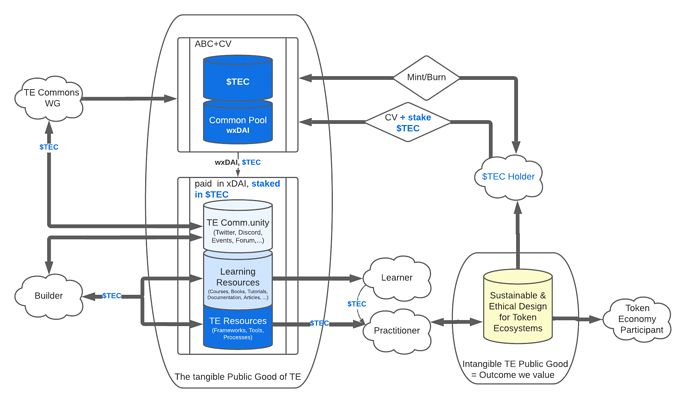 What works perfectly well as is that builders and TEC ops through stewards and WGs are paid through the Common Pool via signalling Conviction on the proposals.
What is missing is a distribution mechanism for $TEC that directly incentivized and increases skin in the game of creating and adding value to the Token Engineering Public Good - which is not only $TEC and wxDAI in the Common Pool, but also harder to quantify yet obvious values both tangible such as the resources and mindshare of TE as well as the intangible and ultimate public good of "sustainable, ethical Design for Token Ecosystems"
Since the beginning there was this assumption that there is continuous and sufficient exchange with the ABC that fills the Common Pool through the tributes.
The assumption is "there will be demand"
Now that that assumption is not sufficiently holding due to micro and macro perceptions, there's an almost automatic reaction to
find sources of revenue to fill the common pool, which would risk closing off TE public goods
I propose something that $TEC holders, builders, TEC WGs can test without the need for costly or time consuming upgrades:
When you CV with your $TEC on any proposal (TE builders and/or TEC WGs) pledge to share all or a portion of your CV $TEC to stake on the proposal. Then Builders and TEC WGs can decide how to share that $TEC within their groups and on learners/practitioners of Token Engineering.
We will aleviate the issues
that the wxDAI in common pool is not sufficient, if builders and working groups are into TEC then they will appreciate $TEC
$TEC will have a wider and more meaningful distribution mechanism; which is more effective in increasing tangible and intangible values of TE (currently we have reward mechanism that only uses praise* which only picks on work on TEC, not on TE public goods)
If you are convinced you are supporting the right proposals, sharing portion of your $TEC with builders will create value added distribution of $TEC which will increase both tangible and intangible value stocks of TE Public Goods, and that should reflect in the price and demand for $TEC.
Additional utility can be created by offering for profit services entirely or discounted for $TEC, especially if those services make use of public goods of TE.
with

,
solsista.